Welcome to the First Reformed Church!
Join us for Sunday morning worship at

9:30 AM

… we are happy to have you!
Sunday School (during the school year) begins at

10:50 AM.
We are located at

1501 16th Street

, in Rock Valley, Iowa.
To contact us call

712-476-2376

or check the email addresses below!
To see the full and detailed list of our denomination's beliefs (the Reformed Church in America), visit rca.org/beliefs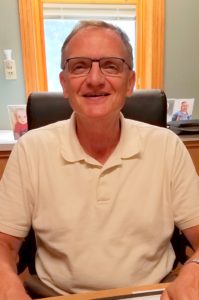 Verlyn Boone
Pastor
verlynboone55@gmail.com
Sheri Bousema
Secretary
sheri@rvfrc.org
Jennifer Taylor
Education Director
jen@rvfrc.org
REFLECTIONS BY PASTOR VERLYN
This week is Youth Sunday where the young people assist in leading worship. The topic they chose is words. Words can build up…words can tear down…words can encourage…words can discourage. One of the things that I do not want to be is "nice" in my words. Someone might say, "be nice." I am not a fan of nice. Nice is not a word from Scripture. Kind is. Kind is different than nice. I do want to be kind …
Read more...
---
Frederick Buechner shares the account of a time in his life when he was wondering what direction to take. During the wondering, he was going to fly to a possible opportunity. Yet did not know. He was early to the airport, so he stopped at the bar for a drink which always made it easier for him to fly. He sat down on a bar stool which had a little menu in front of it with the drink of the day. On the top of the men …
Read more...
---
BULLETINS & ANNOUNCEMENTS
Please click on the "Give" button below to support our church with your financial donation. Thank you for your generosity!