Welcome to the First Reformed Church!
Join us for Sunday morning worship at

9:30 AM

… we are happy to have you!
Sunday School (during the school year) begins at

10:50 AM.
We are located at

1501 16th Street

, in Rock Valley, Iowa.
To contact us call

712-476-2376

or check the email addresses below!
To see the full and detailed list of our denomination's beliefs (the Reformed Church in America), visit rca.org/beliefs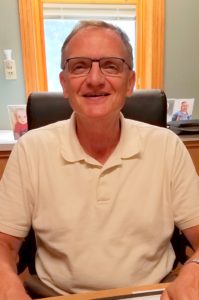 Verlyn Boone
Pastor
verlynboone55@gmail.com
Sheri Bousema
Secretary
sheri@rvfrc.org
Jennifer Taylor
Education Director
jen@rvfrc.org
REFLECTIONS BY PASTOR VERLYN
"Dead man walking," was the phrase used in the past when a person who was on death row was being ushered to his final few moments to whatever form of capital punishment was being used. This phrase, "Dead Man Walking," is also a title to a movie that depicts a Roman Catholic nun reaching out to a convicted murderer on death row awaiting execution. The conversations are deep and transformational for both. Ho …
Read more...
---
One of the spiritual growth opportunities that I and others are and have participated in is FaithWalking. In FW time is spent looking into your past and how you responded or reacted to experiences. My shame, not thinking I was enough, always led me to work hard and be busy so people would think I am wonderful and like me. There was one point in ministry where it had been nearly three months since I had taken …
Read more...
---
BULLETINS & ANNOUNCEMENTS
Please click on the "Give" button below to support our church with your financial donation. Thank you for your generosity!